How to make a Team Fortress 2 Server for FREE
How to make a Tf 2 Server / how to make a team fortress 2 server
---

This info is FREE to print, if you want to copy any of our information, you have to include the link of our Website into your copied text.


Author:

MakeGameServer.com


---
UPDATE:

Due to the new Steam update, you might have trouble with downloading this server.
ISSUE: CMD Closes by itself
Hello guys today I will teach you how to create your own Team Fortress 2 Server for FREE. 
Step 1 - Download Server
1. Download Team Fortress 2 Server Creator Tool from: HERE

Step 2 - Download Source Mod and Metamod
2.
Download the Source Mod + Metamod (for plugins + admin control)(extract it in tf folder (ONLY)
Tutorial: 
HERE
Step 3 - Download Non-Steam Patch
3.
Download the Non-Steam Patch (for Non-Steam Users) and install it in tf folder.
Download:
HERE
Step 4 - Make your self an admin
4.
Make your self an Administrator:
HERE
Step 5 - Configure your server
5.
 Download  and configure Server.cfg file and after save it to tf/cfg  folder.
Download:
HERE
Step 6 - Start the server
6.
Start the server: Go in your Team Fortress Server (orangebox folder) folder: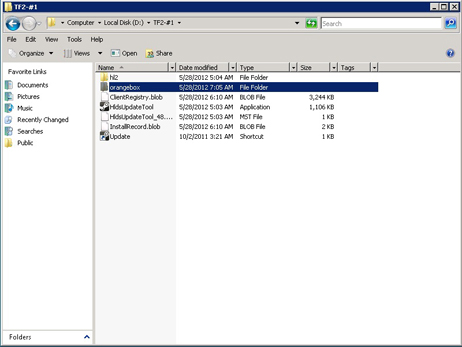 and find the srcds.exe file and create a shortcut: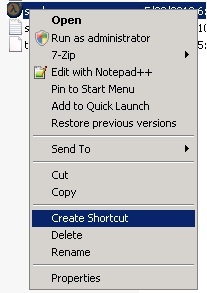 Right-Click on shourt cut and click on Properties: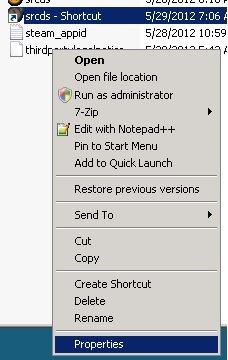 Then add this
-console -game tf -autoupdate +maxplayers 24 +map de_dust -port 27025
to the shortcut direction, like on this picture bellow: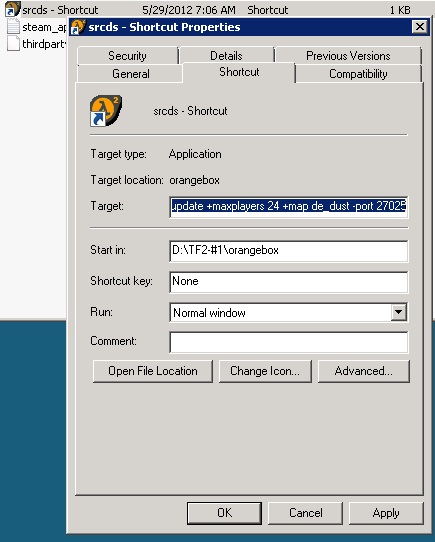 OR download BATCH file HERE (instead of whiting those commands into the shortcut) and put it into orangebox folder where is your srcds.exe locates.
YOU HAVE TO EDIT .BAT FILE BEFORE YOU RUN IT!
Now your Team Fortress 2 Server should work fine. All Steam and Non-Steam users can connect to it and play with you (because you have installed Non-Steam Patch)
Don't forget to Enable Port Forwarding on your Router + and change Rcon password to your oun STRONG password!
---
© Copyright 2012-2023 - MakeGameServer.com
---

IF YOU DID NOT UNDERSTAND SOMETHING, PLEASE LEAVE A COMMENT ON OUR FORUM
---